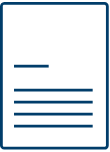 Submission of a project
Do you have a high-tech or life science-based business idea? Get in touch with us! To ensure our communication runs smoothly from the very start, please share your idea with us, by completing an online form under the Submit your project tab.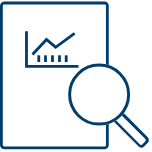 Initial project analysis
Our team will carry out an initial review of your project. What exactly do we mean by that? We will evaluate your project in terms of market potential, innovation and requirement for support.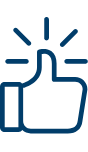 Term-sheet
If your project meets our preliminary investment criteria, we will go on to a stage where we will agree on the key terms and conditions of our business relationship. We will draft the so-called term-sheet, which will lay out the terms of the potential investment, funding scope, a schedule of activities as well as planned milestones.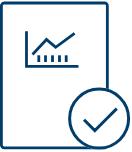 Due diligence
During this stage of our business relationship we will seek to develop a commercialization model for your project. We will take an in-depth look at its potential in terms of technology involved as well as from the market and legal-formal perspective.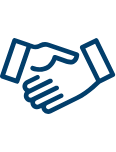 Investment entry
Based on the previous stages and document findings, the Investment Committee will decide whether to invest in the project or reject it. If a "yes" decision is taken, our fund will take up shares in the existing company or the company formed with you and will make the agreed funding available.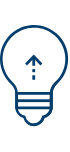 Support
It doesn't stop there! Based on our experience, business relations as well as process and laboratory facilities you can count on our continued support in building the values of your undertaking.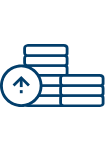 Commercialization
I hereby give consent for my personal data to be processed by Jagiellońskie Centrum Innowacji Sp. z o. o.: Share capital of PLN 11,667,900.00; Commercial Register: District Court for Kraków Śródmieście, the 11th Commercial Division of the National Court Register; KRS number 0000212725; NIP tax ID: 676-226-66-85
Zgodnie z art. 13 Rozporządzenia Parlamentu Europejskiego i Rady (UE) 2016/679 z dnia 27 kwietnia 2016 r. w sprawie ochrony osób fizycznych w związku z przetwarzaniem danych osobowych i w sprawie swobodnego przepływu takich danych oraz uchylenia dyrektywy 95/46/WE (ogólne rozporządzenie o ochronie danych, dalej: "RODO") informuję

Pokaż więcej...

, iż:
Administratorem Pani/Pana danych osobowych jest spółka Jagiellońskie Centrum Innowacji Sp. z o.o., z siedzibą w Krakowie, pod adresem: ul. Bobrzyńskiego 14, 30-348 Kraków, wpisana do rejestru przedsiębiorców Krajowego Rejestru Sądowego prowadzonego przez Sąd Rejonowy dla Krakowa – Śródmieścia w Krakowie, XI Wydział Gospodarczy Krajowego Rejestru Sądowego pod numerem KRS 0000212725, posługująca się numerem NIP 676 226-66-85 oraz numerem REGON 356845374, o kapitale zakładowym w wysokości 11.667.900,00 złotych (dalej: "Administrator"). Kontakt z Inspektorem Ochrony Danych Osobowych Administratora, możliwy jest za pomocą korespondencji pocztowej na adres siedziby Administratora lub elektronicznie pod adresem e-mail: iodo@jci.pl.
Pani/Pana dane osobowe mogą być przetwarzane w celu:

realizacji prawnie uzasadnionych interesów Administratora (na podstawie art. 6 ust. 1 lit f) RODO) w postaci:

utrzymania kontaktu,
prowadzenia korespondencji.

Odbiorcami Pana/Pani danych osobowych mogą być:

osoby upoważnione przez Panią/Pana, we wskazanym zakresie;
podmioty świadczące usługi zapewniające odpowiednie rozwiązania techniczne oraz organizacyjne Administratora (np.: dostawcy usług informatycznych, transportu, podmioty świadczące usługi serwisowe, kurierskie lub pocztowe);

Pani/Pana dane osobowe przechowywane będą przez okres niezbędny do realizacji celu, tj. przez okres rozpatrywania projektu.
Posiada Pani/Pan prawo do: żądania od Administratora dostępu do swoich danych osobowych (na podstawie art. 15 RODO), sprostowania swoich danych osobowych (na podstawie art. 16 RODO), usunięcia swoich danych osobowych (na podstawie art. 17 RODO), ograniczenia przetwarzania swoich danych osobowych (na podstawie art. 18 RODO), prawo do przenoszenia danych osobowych (na podstawie art. 20 RODO lub prawo) lub prawo do wniesienia sprzeciwu wobec przetwarzania (na podstawie art. 21 RODO).
Posiada Pani/Pan prawo wniesienia skargi do organu nadzorczego na podstawie art. 77 RODO w razie stwierdzenia, że Pana/Pani dane osobowe przetwarzane są przez Administratora niezgodnie z RODO.
Podanie Pani/Pana danych osobowych jest dobrowolne, jednakże odmowa podania tych danych uniemożliwia podjęcie czynności dotyczących możliwości nawiązania współpracy.
Pokaż mniej...
Thank you for submitting your application.
We will contact you shortly.
An error occurred while submitting the form. Please contact us by phone.